A few times a year, Deep Dive Coding hosts a large Demo Day mixer to connect our community with the wider tech scene and employers looking for tech talent in New Mexico. We are hosting a special end of the year Demo Day mixer on December 12th, at 5:30pm, in downtown Albuquerque. If you are a local tech employer or technologist, please RSVP and we will send out the location and other details the day before the event.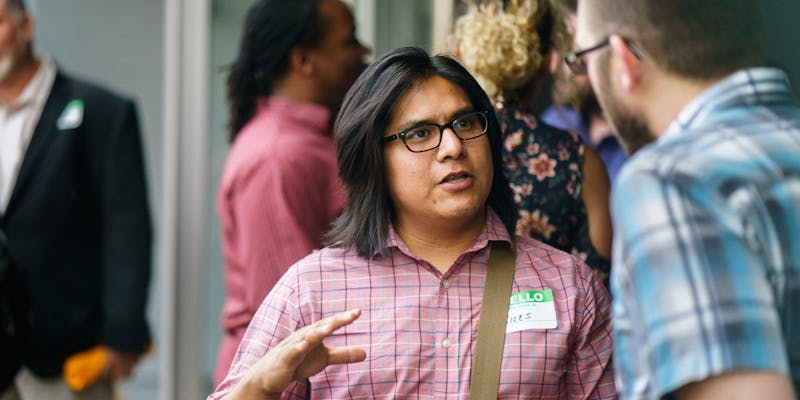 Capstone Projects:
Microsoft .NET Bootcamp
suggestify.fm
Polls your Spotify library and feeds it to last.fm for suggestions of new music.
Team: Johnathon Downard, Tate Lovelady, Corban Cordova

Technologies: .NET Core, Spotify API, Last.fm API
Food2Fork
Strives to bring people closer through sharing your favorite meals and recipes around the world. We make finding fantastic recipes easy with features like search by ingredient, and a ranking system based on social-media popularity.
Team: Nora Durham, Meagen Lemire, Richard Martinez

Technologies: C# and FoodToFork API
Fullstack Web Development Bootcamp
Backyard Astronomer
New Mexico is known for its big, beautiful skies that are full of celestial wonder. But did you also know that there's a thriving underground network of astronomers out there too? We worked together to create a sleek, easy-to-use website that allows amateur and professional astronomers in the Albuquerque area to find and attend star parties!
Family Connect
This website was created as a means for family members, near and far, to stay connected. Each member can log in to the site to plan events, assign tasks, and see what other family members are up to.     
Technologies: HTML5, CSS, Angular, PHP, mySQL
505 Food Truck Finder
Helps connect food truck owners with their hungry customers. Our mission is to support local businesses by using technology to help New Mexicans locate their favorite local food truck. We aim to engage and connect the community while promoting local businesses.
Team: Bernina Gray, Rae Jack, Greg Klein, David Sanderson, Daniel Nakitare

Technologies: HTML, CSS, Angular, PHP, MySQL, Rest API, Google Maps API
Java + Android + Salesforce Bootcamp
Join Me
This social media app was created to allow users to engage with each other on a person to person basis.  Electronic invitations are created and sent by a user to another person, inviting them to social activities and or business events. The app is unique in that it focuses on human scale connections.    
Team: Alex Rael, Dina Rabanal, Brian Bleck    

Technologies: Android, IntelliJ, Android Studio, Spring, Spring Boot, Derby, Glide, Retrofit, Google Sign In, Room Persistence ORM, JSON, Postman, OnePlus 6T, Google Pixel, Nexus 5
Java Learn
A fun educational app that was created as a supplemental tool to give Java learners another opportunity to reinforce their knowledge through games.
Technologies: Java, Android, Hibernate, Spring
Project Khronos
Is a project management app. It helps private contractors become more efficient in managing schedules and expenditures.
Team: Travis Decker, Eve Robles, JR O'Grady, Alex Benedict

Technologies: Spring, Room, Hibernate, Derby, Stetho, JSON, Jackson, Retrofit, Google Maps API, Swagger, Javadoc, Git, SQL
ABQ Film Tour
ABQ Film Tour is an Android app for tourists and film enthusiasts in the Albuquerque area. Users can find, submit, and discuss locations featured in locally filmed movies and television series such as "Breaking Bad" and "Better Call Saul".
Technologies: Java, Android, Spring, Apache Derby, Swagger, Hibernate, Room, Jackson, Google Maps
Demo Tables
In addition to the project presentations, some local tech companies will be present sharing demos and information about their companies and services. Please stay following the presentations to network and help grow the local tech ecosystem.
Special Thanks
Thank you to our partners who have supported our bootcamp students and CNM Ingenuity, including the following:
Extra special thanks to One Central for hosting this quarter's Demo Day!
1 Million Cups

11 Online

ABQ Software

ABQid

AdWallet

Automattic

Aviata

Boomtime

Bright Umbrella

Build With Robots

CNM' Digital Experience Office

CNM Ingenuity

CNM Office of Digital Strategy and ITS

CNM Small Business Development Center

Deep Dive Alumni Committee

FatPipe ABQ

Fuse Makerspace

Ingenuity Software Labs

Innovate ABQ

Matterform

Meow Wolf

New Mexico Department of Workforce Solutions

NMITAP

NM Tech Council

One Central ABQ

RS21

Rural Sourcing Inc.

Sabio Systems

TechHire New Mexico

Xpansiv

W.K. Kellogg Foundation
Thank you to our instructors, for their time and dedication to our students:
George Kephart
Fullstack Instructor
Chloe Edeal
Fullstack Assistant Instructor
Brent Kie
Fullstack Assistant Instructor
Nick Bennett
Java + Android + Salesforce Instructor
Chris Hughes
Java + Android + Salesforce Senior Assistant Instructor
Sean Moriarity
Java+ Android+ Salesforce Classroom Assistant
Rod Sanchez
Digital Media Instructor
Erik Clevenger
Digital Media Assistant Instructor
Brian Jones
.NET Instructor
Eliot Ostling
.NET Classroom Assistant