A few times a year, Deep Dive Coding hosts a large Demo Day mixer to connect our community with the wider tech scene and employers looking for tech talent in New Mexico. We are hosting a special end of the year Demo Day on December 13th, from 12-4pm at CNM's Smith Brasher Hall on Main Campus. If you are a local tech employer or technologist, we hope to see you there!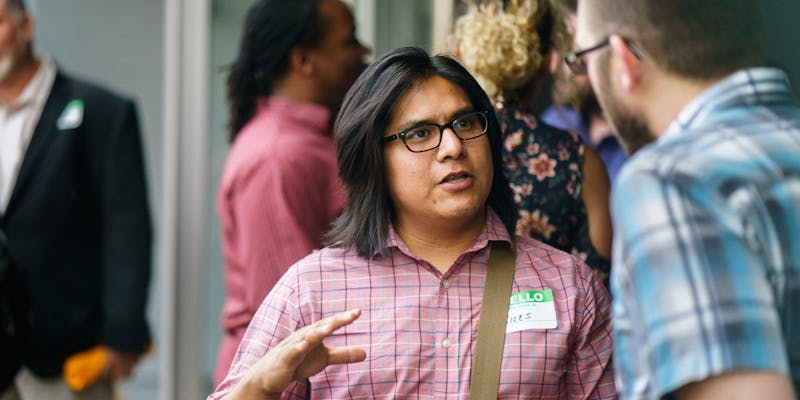 Capstone Projects:
Fullstack Web Development cohort 26
Common Technologies: PHP, React, MySQL, Linux, HTML, CSS, Javascript, PhpUnit, PhpStorm, JSX, JSON, Apache, Swift Mailer, GitHub, GitBash, PuTTy, HTML, CSS, Javascript, Composer, jQuery, RestAPI, Insomnia
ABQ Veterans – Application providing resources for Veterans
Team: Timothy Beck, John Johnson-Rodgers
Additional Technologies: Bootstrap
Community Cookbook – Allowing communities to seek, share, and interact with a recipe database
Team: Daniel Hernandez, Gino Villalpando, Damian Arya, Floribella Ponce
Additional Technologies: YAML, Digital Ocean, Docker
Food Truck Foodie – Platform for truck owners promotion/hire that offers a search option for users to discover truck location/events
Team: Leonela Gutierrez, Zachary Sanchez, Ian Foster
Additional Technologies: N/A
APCI Map – Map allowing users to see an assessed property value layer combined with a crime report layer
Team: Kyla Bendt, Lindsey Atencio, Lisa Lee
Additional Technologies: Mapbox, 2 Data sources
Java+Android cohort 8
Common Technologies: 
Client: Android, SQLite, Room, Gson, Retrofit, ReactiveX, OAuth 2.0 w/ Google Sign-In

Server: Linux, Apache Tomcat, Hibernate, Spring Data, Jackson, Spring Web MVC, OAuth 2.0 w/ Google Sign-In, Spring Security, Spring Boot
Farkle – Multiplayer, points-based dice game with multi-phase turns 
Team: James Larivee, Robert Long
Additional Technologies: Apache Derby
Dominion – Multiplayer, multi-objective, deck-building card game with multi-phase turns
Team: Erica DuBois, Sami Heard, Daniel Seymour
Additional Technologies: Apache Derby, Picasso
Trail Blazer – Using ABQ Open Trails as base dataset, allows users to view trails in Google Maps, add new trails, share trails and related content with other users
Team: Isaac Lindland, Joel Bond, Justin Dominguez, Khizar Saleem
Additional Technologies: MySQL, Google Maps
External data source: ABQ Open Trails Data (https://opendata.cabq.gov/dataset/open-trails)
Stock Roll – Stock pick tracking & plotting, with social media features (share picks, follow other users to track their public picks) 
Team: Quentin Dye, Andrew Patten, Khasiano Webb
Additional Technologies: Apache Derby, Androidplot
External data source: World Trading Data (https://www.worldtradingdata.com/)
Digital Media cohort 4
Theme: Digital media as a means of creating positive social change
Class: Alyissa Aragon, Jeremiah Wall, Marie Vallejos, Abdiel Ascencio, Favian Calderon, Heather Herrera, Holden Santiago, Jacob Garduno, Marcus James Stewart, Maurizio Romero, Samuel Chavez
Projects: 
Student projects to be showcased include the first segment of their docu-series on transformative education with Gordon Bernell Charter School, a high school with a curriculum and an environment designed specifically to accommodate adult students who haven't been in school for awhile.
They will display an augmented reality tour focused around environmental sustainability with the Leadership in Energy and Environmental Design (LEED) rating system featuring several CNM buildings on main campus.
A commercial for the City of Albuquerque's scooter sharing system provided by Spin to reduce the community's CO2 footprint and traffic congestion, allowing them to touch on the topic of pollution.
A concept video based around social epidemic with an up and coming local drug rehabilitation center for the use of high technology tools like virtual reality as a method of therapy and treatment in opioid addiction.
The use of digital motion capture to aid in local economic development. They utilized the OptiTrack software and camera array to learn how motion capture technology can be used to create animation and special effects used in motion picture and digital games.
Special Thanks
Thank you to our partners who have supported our bootcamp students and CNM Ingenuity, including the following:
1 Million Cups

ABQid

Administrative Office of the District Attorneys
Adelante
Albuquerque Economic Development
Alonso Indacochea

Boomtime

Closure Consulting

CNM Digital Experience Office

CNM Ingenuity

CNM Office of Digital Strategy and ITS

CNM Small Business Development Center

CNM Audio Visual Services

Deep Dive Alumni Committee

Deloitte
Electric Playhouse
Evvia Digital

FatPipe ABQ

Fuse Makerspace

Ingenuity Software Labs

Kids Korner Studio
Media Desk

New Mexico Department of Workforce Solutions

NM IT Apprenticeship Program

Office of the Second Judicial District Attorney

RS21

Rural Sourcing Inc.

Samba Safety
Sandia National Labs
SapienWELLNESS, LLC

TechHire New Mexico

Teeniors
Ultramain

Xpansiv

WESST

W.K. Kellogg Foundation
Thank you to our instructors, for their time and dedication to our students:
Paul Schultzetenberg
Fullstack Instructor
George Kephart
Sr. Fullstack Assistant Instructor
Marty Bonacci
Sr. Fullstack Assistant Instructor
Brent Kie
Fullstack Assistant Instructor
Chamisa Edmo
Fullstack Assistant Instructor
Nick Bennett
Java + Android Instructor
Todd Nordquist
Java + Android Assistant Instructor
Brian Bleck
Java + Android Assistant Instructor
Rod Sanchez
Digital Media Instructor
Kasie Cochrane
Digital Media Assistant Instructor
Coding Mentors: 
Charles Cantu, Felipe Cook, Travis Decker, Kathleen Mattos, Natalie Woodard, and Annalise Jaramillo